Custom Vanity Countertop Designer
You Design It.
We Build It.
We Ship It.
You Install It.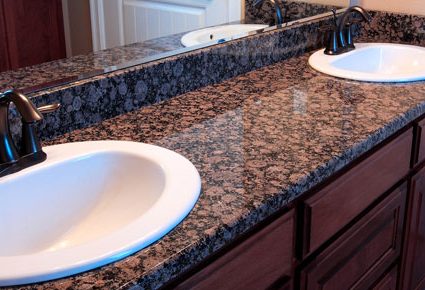 Design your own Custom Vanity Countertop
Starting at $39/ft² with shipping as low as $99
Once you've finished designing your Custom Vanity Countertop, you can order it and it will be delivered to your door. If you have any questions, please call us at (503) 588-0180.
Ships in 5-7 weeks. We are unable to ship outside of the contiguous 48 states. Note: on the Finalize page, there is a local pickup option if you would like to pick up your Vanity Countertop instead of having it shipped.
All Stones 3cm ( ~1.18″ ) Thick
Proudly Made in the U.S.A.
Faucet Hardware Not Included
All Sinks are Undermount
Backsplash Size: 4″ x 3cm ( 4″ x ~1.18″ )
Instruction Sheet Download
Shipping starts at $99 for countertops less than 9ft² shipped in Oregon, and increases based on square footage or distance shipped, up to $379.
For current shipping rates, visit our Shipping Rate Schedule.
Custom Vanity Countertop Sales are Final | Also Available: Prefabricated Vanity Countertop Designer
If you have any questions, comments, or concerns – please call us at (503) 588-0180.