Prefabricated Vanity Countertops
You Choose It.
We Build It.
We Ship It.
You Install It.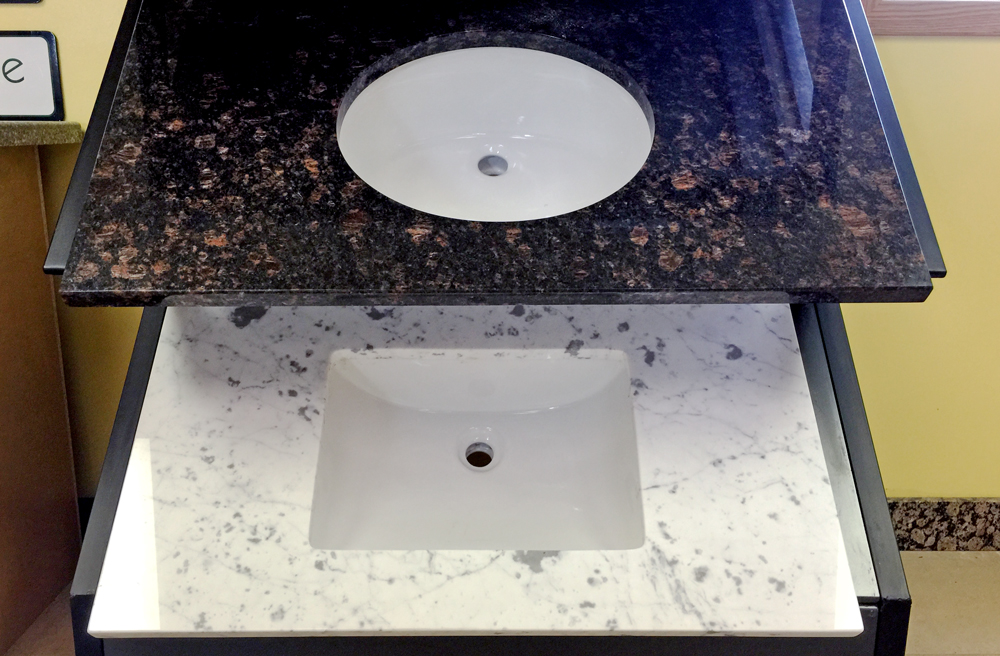 4.6
(196)
5 Star Review by Deedee H.
Fernando and his crew did an amazing job on our shower and counter. We appreciate their talent for detail . Thank you our bathroom looks…Read More
5 Star Review by Megan M.
Very friendly, wanted to help us out. Price as marked on each slab. Showroom & stockroom well done with more online.
5 Star Review by Janet K.
Super clean and professional
5 Star Review by Lady H.
The sales rep was helpful and friendly. We brought our four year old granddaughter with us, and the rep gave her stickers and paper to…Read More
5 Star Review by Evan W.
Best pricing and transparent about the costs on their website. Installation was smooth and exceptionally done.
4 Star Review by David P.
While my soapstone fumaca came out great, I had originally been discussing my original estimate with someone named Tyler, but he mumbled…Read More
5 Star Review by Hector R.
Did everything thru the phone as they were somewhat far from me, they were able to accommodate my distance by taking remote payments, as…Read More
5 Star Review by Janet M.
Isaac, Ryan, and Greg braved our icy roads last month to install our beautiful new kitchen counters. Everything about our process with Keystone…Read More
5 Star Review by Stu G.
Keystone has a great selection on hand to look through. Their prices are in line with everyone else in this business right now. We have…Read More
5 Star Review by Shawna H.
I had an amazing experience working with this company! They offered a 5% discount if you paid in full(cash/check), they were great at communication…Read More
Read More Reviews
Starting at $199.99 with shipping starting at $99 to Oregon, Washington, Idaho, and California!
Shipping to other states or 61×22″ countertops incurs increased rates, up to $279. For current shipping rates, visit our Shipping Rate Schedule.
Select from one of our high quality, pre-fabricated vanity countertop sizes and styles. We have a wide variety of colors and stones in your choice of Granite, Quartz, or Marble.
Ships in 5-7 weeks. We are unable to ship outside of the contiguous 48 states. You may also select the Local Pickup option if you would rather pick it up instead of have it shipped.
Notes:
3cm (~1.18″) Thick
Sizes From 25″ x 22″ to 61″ x 22″
Faucet, 2nd sidesplash, & accessories not included
Includes:
Granite/Quartz countertops include 1 white oval undermount sink with single pre-drilled faucet hole.
Marble countertop includes 1 white rectangle undermount sink with pre-drilled 8″ faucet spread.
Includes 1 sidesplash and 1 backsplash
| | | | | |
| --- | --- | --- | --- | --- |
| Size | | Granite | Quartz | Marble |
| 25″ x 22″ | | $199.99 | $259.99 | $299.99 |
| 31″ x 22″ | | $209.99 | $269.99 | $309.99 |
| 37″ x 22″ | | $239.99 | $299.99 | $339.99 |
| 49″ x 22″ | | $259.99 | $319.99 | $359.99 |
| 61″ x 22″ | | $309.99 | $369.99 | $409.99 |
Want more custom options for your Vanity Countertop? Use our Custom Vanity Countertops Designer!
* Orders may be cancelled due to issues with pricing, shipping, or other calculations.

Largest inventory of 3cm granite slabs in the Pacific Northwest with over 1,000 slabs!