Prefabricated Vanity Countertops
You Choose It.
We Build It.
We Ship It.
You Install It.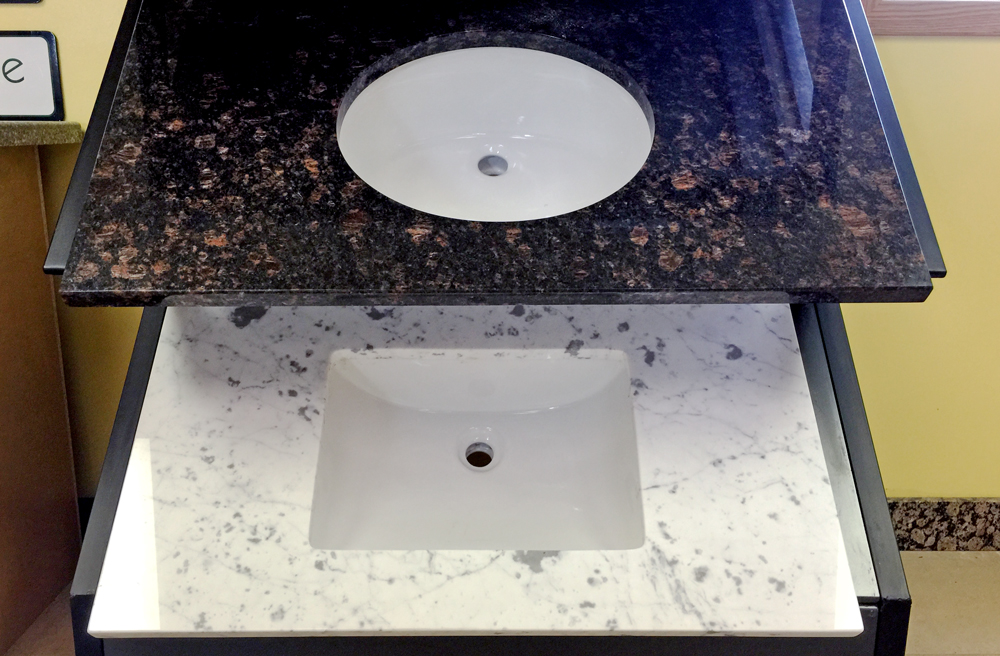 4.7
(160)
5 Star Review by Tom W.
Always professional, helpful. End product always meets or exceeds expectation. Installers are great at what they do. Quality and craftsmanship…Read More
5 Star Review by Judy S.
Met with Sarah, she was very informative and helpful.
5 Star Review by Lance R.
Friendly people, worked with us to get what we want, and Sarah was great. Prices we reasonable too
Blue Pearl Granite Tops
We ordered our counter tops through Jerry's. When I ordered our counter tops, I specified full bull nose edges. I already had an island…Read More
5 Star Review by K S.
I was very impressed with Keystone and I highly recommend them. The showroom folks were great but my compliments are extended to the installers.…Read More
Top Notch
Hats off to Erin for always giving her time and outstanding customer service. She was there from start to finish, always keeping us updated…Read More
5 Star Review by Ryan L.
5 stars!!!!
5 Star Review by Andrea H.
Keystone granite helped transform our kitchen from dated to timeless. We searched several places but referred by a friend to check this…Read More
5 Star Review by Sarah M.
We found a stone we really liked at IKEA, but I was unhappy with their customer service. Gaby sent me a quote based on my measurements in…Read More
5 Star Review by Heather K.
I can not say enough about our wonderful experience with Keystone. They were so quick on the scheduling and getting our countertops in.…Read More
Read More Reviews
Starting at $199.99 with shipping starting at $99 to Oregon, Washington, Idaho, and California!
Shipping to other states or 61×22″ countertops incurs increased rates, up to $279. For current shipping rates, visit our Shipping Rate Schedule.
Select from one of our high quality, pre-fabricated vanity countertop sizes and styles. We have a wide variety of colors and stones in your choice of Granite, Quartz, or Marble.
Usually ships 10 to 12 business days. We are unable to ship outside of the contiguous 48 states. You may also select the Local Pickup option if you would rather pick it up instead of have it shipped.
* Free shipping available only on units under 60″ x 22″
Notes:
3cm (~1.18″) Thick
Sizes From 25″ x 22″ to 61″ x 22″
Faucet, 2nd sidesplash, & accessories not included
Includes:
Granite/Quartz countertops include 1 white oval undermount sink with single pre-drilled faucet hole.
Marble countertop includes 1 white rectangle undermount sink with pre-drilled 8″ faucet spread.
Includes 1 sidesplash and 1 backsplash
| | | | | |
| --- | --- | --- | --- | --- |
| Size | | Granite | Quartz | Marble |
| 25″ x 22″ | | $199.99 | $259.99 | $299.99 |
| 31″ x 22″ | | $209.99 | $269.99 | $309.99 |
| 37″ x 22″ | | $239.99 | $299.99 | $339.99 |
| 49″ x 22″ | | $259.99 | $319.99 | $359.99 |
| 61″ x 22″ | | $309.99 | $369.99 | $409.99 |
Want more custom options for your Vanity Countertop? Use our Custom Vanity Countertops Designer!

Largest inventory of 3cm granite slabs in the Pacific Northwest with over 1,000 slabs!