Prefabricated Vanity Countertops
You Choose It.
We Build It.
We Ship It.
You Install It.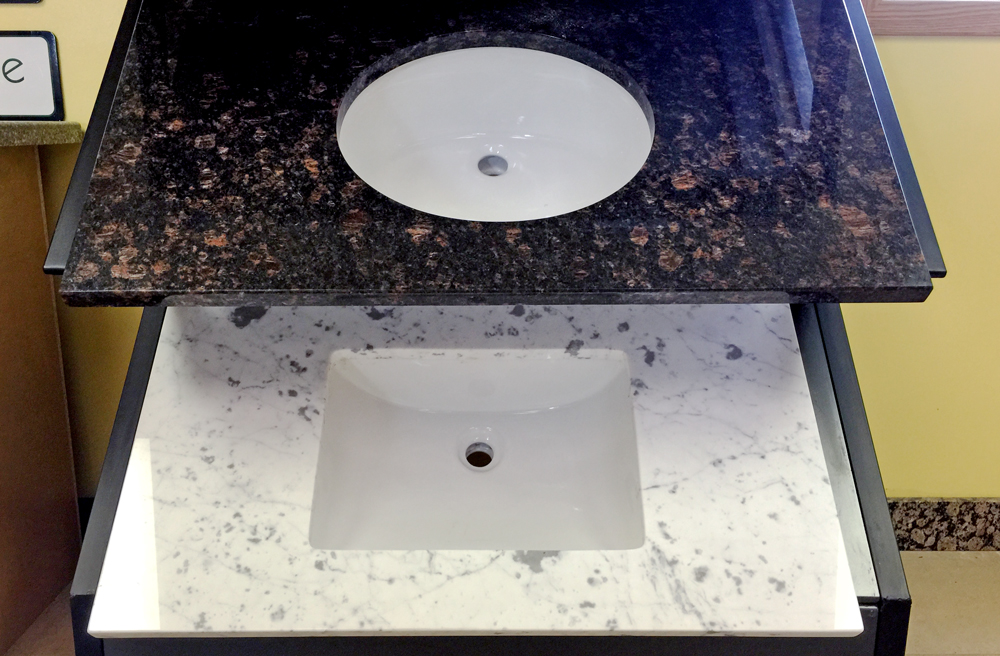 4.6
(186)
5 Star Review by Stu G.
Keystone has a great selection on hand to look through. Their prices are in line with everyone else in this business right now. We have…Read More
5 Star Review by Shawna H.
I had an amazing experience working with this company! They offered a 5% discount if you paid in full(cash/check), they were great at communication…Read More
5 Star Review by Monica B.
I am so happy with Keystone! I'd highly highly recommend them to anyone from Corvallis to Portland. I looked at a few places for my kitchen…Read More
5 Star Review by Steve T.
I have done 2 houses with Keystone. Good experience both times.
5 Star Review by Vickie S.
We live on the coast near Lincoln City. Contracted Keystone to replace our outdated countertops. Crew completed demo/template in 2 hours.…Read More
5 Star Review by Valerie V.
I am absolutely thrilled with the countertop- best price and excellent service! They have a great selection and we're super knowledgeable…Read More
5 Star Review by Asher M.
Not only did I used to work here and know they are a solid company but I had the privilege of having them do my counters in my new house.…Read More
5 Star Review by Andrew N.
Everyone from the sales/office staff to the installers were awesome. I really can't recommend this place enough for quality, affordable…Read More
5 Star Review by Kylia H.
I didn't buy counter top services. I was stranded at a gas station and four of your employees decided to help me out and reattach my radiator…Read More
5 Star Review by Holly D.
This company was great, even after a few different issues i am still giving 5 stars because the installers were great, the office was very…Read More
Read More Reviews
Starting at $199.99 with shipping starting at $99 to Oregon, Washington, Idaho, and California!
Shipping to other states or 61×22″ countertops incurs increased rates, up to $279. For current shipping rates, visit our Shipping Rate Schedule.
Select from one of our high quality, pre-fabricated vanity countertop sizes and styles. We have a wide variety of colors and stones in your choice of Granite, Quartz, or Marble.
Ships in 5-7 weeks. We are unable to ship outside of the contiguous 48 states. You may also select the Local Pickup option if you would rather pick it up instead of have it shipped.
Notes:
3cm (~1.18″) Thick
Sizes From 25″ x 22″ to 61″ x 22″
Faucet, 2nd sidesplash, & accessories not included
Includes:
Granite/Quartz countertops include 1 white oval undermount sink with single pre-drilled faucet hole.
Marble countertop includes 1 white rectangle undermount sink with pre-drilled 8″ faucet spread.
Includes 1 sidesplash and 1 backsplash
| | | | | |
| --- | --- | --- | --- | --- |
| Size | | Granite | Quartz | Marble |
| 25″ x 22″ | | $199.99 | $259.99 | $299.99 |
| 31″ x 22″ | | $209.99 | $269.99 | $309.99 |
| 37″ x 22″ | | $239.99 | $299.99 | $339.99 |
| 49″ x 22″ | | $259.99 | $319.99 | $359.99 |
| 61″ x 22″ | | $309.99 | $369.99 | $409.99 |
Want more custom options for your Vanity Countertop? Use our Custom Vanity Countertops Designer!
* Orders may be cancelled due to issues with pricing, shipping, or other calculations.

Largest inventory of 3cm granite slabs in the Pacific Northwest with over 1,000 slabs!