As a local, family owned business we believe in giving back to our community. We do this by supporting and sponsoring many events, youth programs and non profit organizations in our neighborhood.
HART Foundation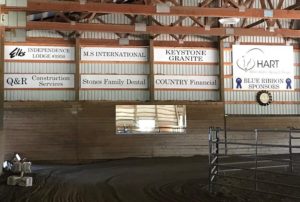 Horses Adaptive Riding and Therapy is located down the road from us in Independence, OR. They offer hippotherapy and adaptive riding so many children that could not otherwise ride horses. It's an amazing thing to watch and helps so many people.
West Salem Titans
We love our Titans! In 2018 we sponsored the Grand National Championship West Salem High School Band. They were the first school from Oregon to make it to the Nationals.
Steps to Safety 5K Walk/Run
This is an annual Domestic Violence Awareness Walk/Run that is put on by the Center for Hope and Safety. We enjoy participating in and sponsoring such a worthy cause to help provide services to domestic violence survivors.