Keystone Granite, Inc. is now offering high quality outdoor grills from Fire Magic and enchanting outdoor fire features from American Fyre Designs. Both product lines improve your outdoor living space by adding the function of well built quality products, with the beauty of uniquely crafted design. Whether you want the finest in outdoor cooking grills, or the mesmerizing charm of a fire feature, Fire Magic and American Fyre are sure to delight all ages.
What makes Keystone unique: only company that uses Dekton material to create a long lasting outdoor kitchen that will withstand weather for years to come.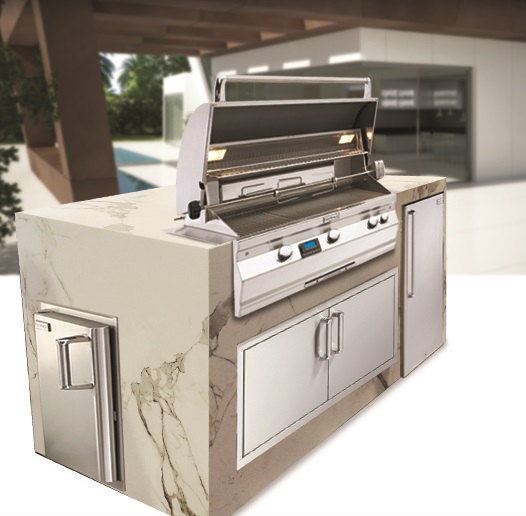 A feature that Keystone Granite offers is the ability to custom wrap your Fire Magic grill in the revolutionary material Dekton. Dekton allows your grill to withstand any outdoor weather wear and offers a 25 year guarantee from Cosentino, the makers of Dekton. This uniquely durable Dekton wrap comes in multiple colors, allowing you choose the perfect style.
Our outdoor kitchens also feature cabinetry from Brown Jordan Outdoor Kitchens, whose design and function blend together seamlessly to create a beautiful long lasting kitchen that can be enjoyed for years to come.